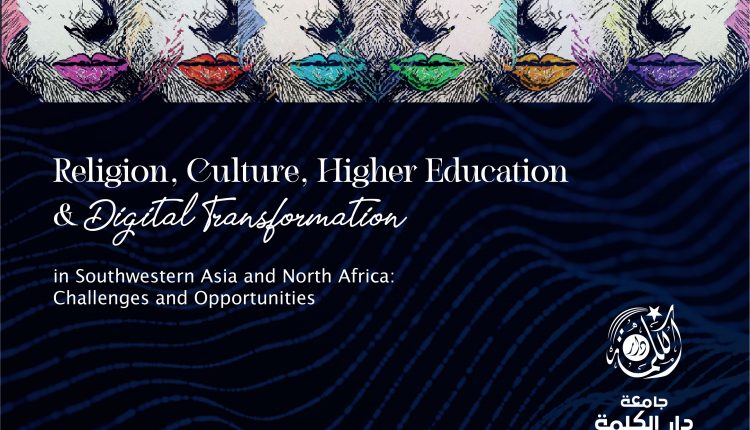 "Religion, Culture, Higher Education, and Digital Transformation in Southwestern Asia and North Africa: Challenges and Opportunities"
Dar al-Kalima University and CAFCAW's Round Table Larnaca-Cyprus, June 9 & 10, 2023
"Religion, Culture, Higher Education, and Digital Transformation in Southwestern Asia and North Africa: Challenges and Opportunities"
Dar al-Kalima University and CAFCAW's Round Table
Larnaca-Cyprus, June 9 & 10, 2023
Dar al-Kalima University is organizing a Southwest Asian and North African (SWANA) round table with The Christian Academic Forum for Citizenship in the Arab World (CAFCAW), entitled "Religion, Culture, Higher Education, and Digital Transformation in Southwestern Asia and North Africa: Challenges and Opportunities." The round table will take place in Larnaca -Cyprus on June 9 and 10, 2023. It follows the 24th International Conference on Digital Transformation and Culture in June 2022.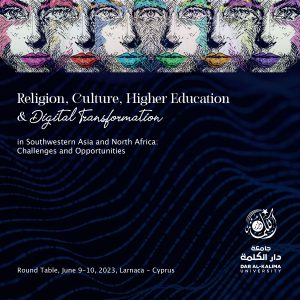 Digital transformation is reshaping the way we live and interact with one another, and the Southwestern Asian/North African region (SWANA) is no exception. The round table will explore the challenges and opportunities of digital transformation in SWANA's religious and cultural realms and the higher education sector. It will gather experts, academics, administrators, practitioners, and artists from diverse fields – visual and performing arts, cultural studies, cultural heritage, social/political studies, education, theology/sciences of religions, computer science, and artificial intelligence, among others – from the region and diaspora communities.
According to Dar al-Kalima University's Founder and President, Rev. Prof. Mitri Raheb: "The Digital revolution that we are experiencing will bring endless opportunities but also immense challenges. It will revolutionize our work, study, and how we relate to ourselves and others. We are still at the threshold of this revolution; there is no way we can imagine all the changes stored for us down the road. Yet, in its 25th conference, Dar al-Kalima University is eager to invite a group of experts in this field from the region to explore the horizon of this important issue in a timely and scholarly manner".
According to Program Manager Dr. Pamela Chrabieh: "Participants will be invited to discuss the following questions: what are the current uses of digital technologies and platforms in religious engagement and practice in SWANA? What are the moral, ideological, and ontological implications of the digital lives of individuals and communities? What about the protection of personal data and the use of ethical practices versus the misuse of technology by individuals, organizations, institutions, and governments? What is the future of digital transformation in religion in SWANA? In what ways the contemporary cultural landscape is shifting towards the digital in SWANA? What are the digital arts and cultural best practices in the region? How can artists, cultural institutions, NGOs, and creative enterprises unlock the potential of digital transformation and create more immersive cultural experiences? What obstacles do artists and cultural organizations/NGOs have to overcome? How are governments supporting (or not) artists and the cultural/creative sector? What could future art ecosystems look like at the crossroads of art, science, technology, and commercial industry in SWANA? What are the current best strategies and practices of digital transformation in the SWANA higher education sector? What are digital transformation's ethical, psychological, economic, social, and political implications in higher education? Is higher education at risk of being supplemented by AI in the region? What about cybersecurity and government laws and policies, such as those regarding the Internet of Things regulatory policies in the higher education sector?".
The goals of the round table are to 1) expand and deepen the critical and interdisciplinary dialogue that was started in June 2022; 2) launch a digital platform that will gather the participants' presentations & recommendations, and the round table audio-visual material; and 3) establish partnerships for future collaborations.