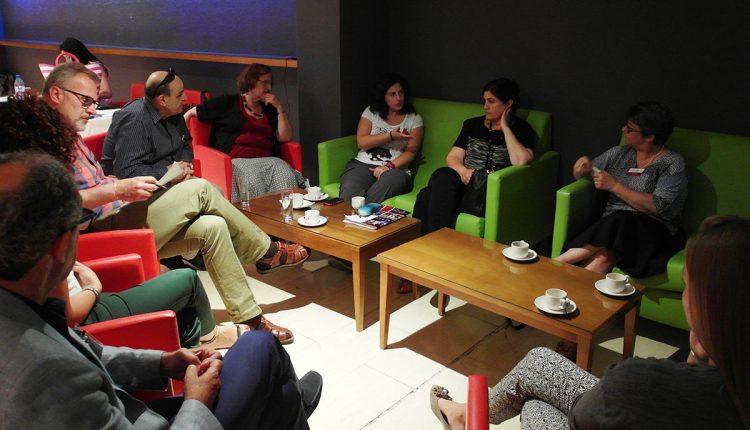 Youth and Citizenship in the Arab World
conference and workshop held in Cyprus on Youth and Citizenship in the Arab World.
Associate Professor of Middle Eastern Studies at AUD Dr. Pamela Chrabieh and a member of the Christian Academic Forum for Citizenship in the Arab World (CAFCAW) Executive Committee met her peers and presented a communication on the challenges of citizenship at a two-day conference and workshop held in Cyprus on Youth and Citizenship in the Arab World.
This initiative followed a series of academic gatherings, international conferences and youth workshops in 2014, 2015 and 2016 in Lebanon, Egypt, Cyprus and Turkey, co-organized by CAFCAW and Diyar's Consortium – CAFCAW is one of Diyar's initiatives. It gathered more than 60 young academics and activists and included trainings and conferences tackling the issues of citizenship and youth initiatives.
Four young activists and social change makers were awarded Best Citizenship Awards: Yorgui Teyrouz from Lebanon for 'Donner sang compter', a non-governmental organization which promotes responsible citizenship through raising awareness on and encouraging safe blood transfusions in Lebanon. The second place went to Randa Farah from Lebanon for Lebtivity, a social events calendar that gathers people from different socio-economic backgrounds and religions. Two projects shared the third place: Ghadeer Najjar from Palestine for her research and upcoming publication to preserve Bethlehem's social and architectural history, and Peter Magdy from Egypt for empowering marginalized groups.
According to Dr. Chrabieh: "youth in the Arab World are facing numerous challenges, including unemployment with a 30 to 35% rate (compared to a global rate of 14%), political oppression in most countries, socio-economic disparities, gender injustice, corruption, forced migration, physical and psychological wars, etc. However, young Arabs positively engaged in their societies and in diaspora are many. They are change makers who offer an alternative to the disenchantment nowadays experienced at different levels. This alternative, as I mentioned it in previous publications and conferences, is about taking small, varied, contextual and diffuse but continuous steps, and about recognizing and appreciating the many lights that help us walk through the tunnel.'
President of Diyar's Consortium Dr. Mitri Raheb comments: "one out of five youth in the Arab World belong to the creative class. The Arab world has seen a surge in the arts, encompassing film, visual art, poetry, and music."
"University enrollment in the occupation-torn Palestine exceeds that of Hong Kong. Female university graduates outnumber male graduates in the Arab world. In the UAE female count to 70% of the student body; 77 % of Emirati women are educated. Globally 10% of entrepreneurs are women, in Lebanon over 30%. 60-80% of the people in the Arab world used to work in the public sector. In 2012, 55% of Arab youth wanted a public sector job, in 2014 only 43%. The Arab world experienced a surge in higher education: since the early 2000s the number of universities in the Arab region has doubled from 178 to 398, if one adds colleges and institutes, the number rises to 1139. This is higher than the population growth. There is hope in spite of all challenges. It is imperative to combat the image of the violent Arab youth and to replace it with that of the creative class," he continued.