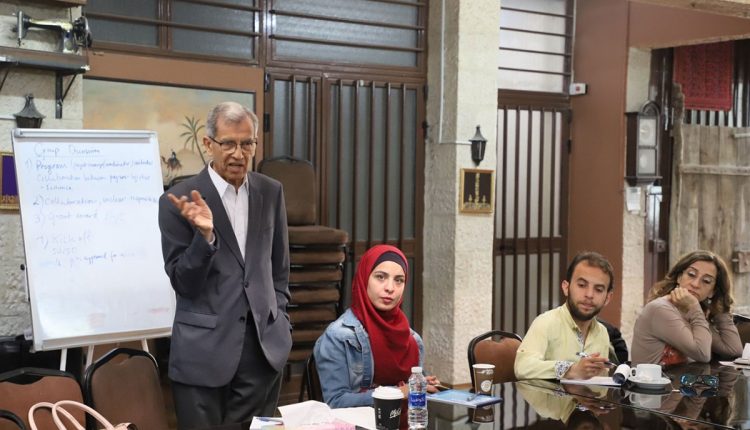 Towards Inclusive Societies in the Middle East
Conference Report By Karis Ailabouni
Inclusive societies based on equal rights remain at a distance as the Middle East continues to face radicalized religious and political movements. In light of this, Dar al-Kalima University College of Arts and Culture and the Christian Academic Forum for Citizenship in the Arab World (CAFCAW) organized its fifth international conference entitled, "Towards Inclusive Societies in the Middle East", held in Cyprus from October 31 to November 2, 2019. The conference gathered 47 scholars, activists, and experts from around the world with the aim of stimulating critical dialogue on the factors that hinder equitable societies in the region. In an effort to practice inclusion, 29 (61%) of the conference participants were women, while 9 (19%) were youth under the age of 35. In addition, participants came from diverse national backgrounds. The majority hailed from the region, namely Palestine, Lebanon, Egypt, Jordan, Syria and UAE. However, participants also joined from the USA, Canada, Sweden, the Netherlands, Austria, Germany, and the UK. The conference provided also a forum for Arab scholars from the diaspora to connect to their peers from the region. The forum's diversity of participation inspired an unparalleled interdisciplinary, ecumenical, and interreligious discussion, through which participants could explore issues from multiple perspectives.
Following a welcome dinner on October 31, the event consisted of eight sessions and 22 paper presentations over two days. Sessions I and II provided a theoretical framing of inclusivity in political and theological terms. This led into sessions III and IV, which tackled gender justice as a critical form of inclusivity. On day 2, the morning consisted of two sets of parallel sessions. The first contextualized inclusivity through specific insights from Lebanon and Egypt, while the second brought unique interdisciplinary approaches to the theme- from philosophy, to germ theory, to natural resource management.
The conference also made space to include a flash panel on the revolution currently unfolding in Lebanon. As a scholarly forum rooted in everyday realities, it was necessary to include this session given its relevance to the themes of the conference and to the sociopolitical context of the region at large. Lebanese participants shared their diverse perspectives from the ground, reflecting on the opportunities and challenges of the revolution as a platform for people to affect social and political change.
Several important themes emerged from the discussions surrounding these sessions. Firstly, the bondage of minoritization and sectorization in the Middle East poses a challenge to inclusive societies. Through histories of colonialism and authoritarianism, Christians have been constructed to think of themselves as minorities and, therefore, inherently disempowered. This phenomenon calls for a radically inclusive, popular theology that rejects sectarianism.
Inclusivity, then, requires societies in the Middle East to learn from local history so that they might deconstruct oppressive power systems inherited from colonialist and authoritarian regimes. Rather than reproducing exclusivist modes of authority, there is an urgent need to build new social contracts that empower the participation of all people in public life. This necessitates not only the building of new political systems, but also a sociocultural shift in which people begin to understand political participation not as a privilege, but as an essential dimension of their being.
Therefore, there is a need to pursue a collective journey towards inclusive societies. This was brought to light in discussions tackling gender justice, as many women's movements are already carving a place for themselves as equal citizens. For example, women are at the front lines of the revolution in Lebanon. Meanwhile, women Islamic activists in Palestine are challenging the dominant culture by studying Islam and building their religious practice. In addition, women in the Evangelical Church in Egypt are struggling to become ordained leaders in their church through subversive ministry. Youth in the Middle East are also actively excluded from participation in public life. Research presented in the conference showed youth's growing disillusionment with their future. Although they are eager to better their own community, many feel they must ultimately go abroad to realize their dreams. The problematic of Arab youth and women's exclusion calls for participatory processes that allow the marginalized in society to make their voices heard.
Finally, the conference concluded with a discussion of pressing topics that might be addressed in future conferences. The recommendations emphasized by participants included the following:
Public theology of the religious other
Liberation from exploitation and authoritarianism
Technology, Religion and virtual realities
The role of education in social change, peace, and reconciliation
CAFCAW executive committee decided to choose the theme of Education for the next year with a working title "The Future of Education in West Asia and North Africa: Education for the Future."
The conference was utilized as a platform to launch Telos magazine (www.telosmagazine.org), a new online magazine with a focus on public theology.
In addition to the stimulating discussions that surrounded these sessions, one of the greatest successes of the conference occurred informally. Academics and activists from around the world were able to build new connections with one another, creating a network where ideas and experiences could be exchanged. As one participant noted, the conference succeeded in developing a community of scholars and practitioners. This allowed not only for rich and critical dialogue, but also opened endless possibilities for future.